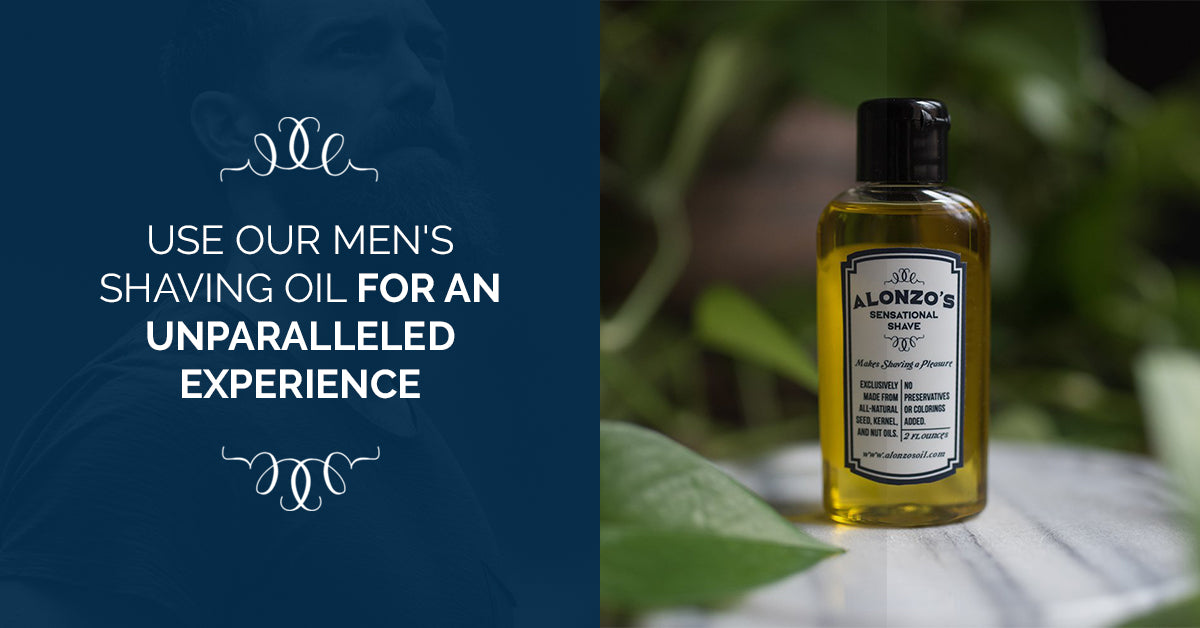 Use Our Men's Shaving Oil For An Unparalleled Experience
We've all been there at one point or another. Though men reach puberty at different points in their lives, we all eventually deal with the same issue: hair on our face. What was once a few random, rogue hairs on the upper lip and lower cheeks will become a patchy mess of facial hair. For many guys out there, that's as far as their beard game goes. For others, they're able to grow a complete beard, which may be annoying if they prefer to have a clean-shaven face.
The Best Oil For Shaving
After carefully experimenting with different types of razors, shaving creams, and shaving techniques, you've probably endured your fair share of razor burns, cuts, rough skin, and the lot. Of course, that's all part of the shaving learning curve as you get older, but shaving — be it daily, weekly, or monthly — shouldn't be a lifelong struggle.
Alonzo's Sensational Shave believes that the shaving experience should be just that: sensational! Our goal is to make shaving a pleasure for men (and ladies!) around the world, and that's why we're dedicated to providing the highest quality, all-natural shaving oil on the market.
What Makes Alonzo's Oil So Great?
We use all of the good stuff:

Alonzo's Oil is exclusively made from all-natural seed, kernel, and nut oils. These oils naturally hydrate your skin while providing the right amount of lubrication necessary for a smooth shave.

We skip the bad stuff:

Our all-natural men's pre-shave oil is completely free of ammonia, PABA, formaldehyde, and parabens. We also skip the use of synthetic extracts, colorings, or fragrances. What you smell and feel is purely natural!

You can actually see where you're shaving:

Seriously! Conventional shaving cream makes it difficult to see where you want to shave. Our men's shaving oil goes on smooth and allows you to see what you're working with.

An ultra-smooth shave:

Not only will your razor gently slide over those stubborn facial hairs as you shave, but our all-natural shaving oil leaves your face feeling moisturized and incredibly soft. If you don't believe us, your significant other will after you use it.
That Sounds Great, But How Do I Use Alonzo's Oil?
Using our pre-shave oil is actually very simple. While some swear by strictly using our pre-shave oil and nothing else, others combine it with traditional shaving cream. Really, it comes down to your personal preferences and whatever works best for you.
Once your face is clean, splash a little water on it. Then, place three or four drops of oil in the palm of your hand and rub the oil on the desired shaving areas. That's it! Simply run your razor carefully through our shaving oil, running the blades under hot water here and there. Follow through by gently massaging any remaining shaving oil into your skin.
Prepare For The Best Shave Of Your Life!
The fact of the matter is that you need to shave, so you might as well enjoy yourself in the process. For a consistently smooth shave and even smoother skin time and time again, get the best men's shaving oil on the market. Shop Alonzo's Oil today!