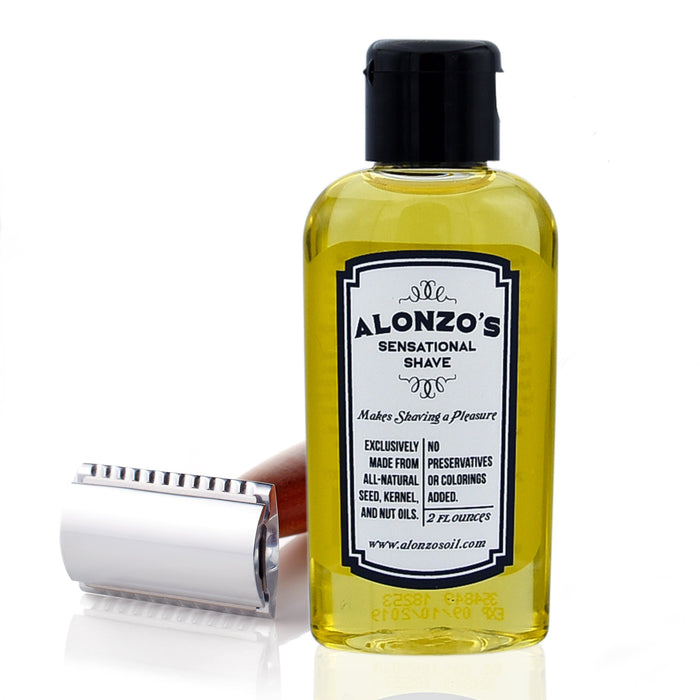 All Natural Oils
Alonzo's Shaving oil for men is made with 100% all natural oils for a healthy, clean shave. No harmful chemicals that dry your skin out or cause irritation. Our proprietary blend of natural seed and nut oils will provide perfect lubrication, softer skin, and vitamins and minerals your skin needs.
See What You Are Shaving
Regular shaving makes it impossible to see where you want to shave. Shaving Oil goes on smoother and lets you see the hairs that you are shaving.

Silky Smooth Shave
Our Sensational Shaving oil will leave your skin incredibly soft. If you have a significant other, then you will need to buy two bottles because they will steal your bottle after they feel how silky smooth your face is.


How Do I Use It?

For a free consultation, email support@alonzosoil.com and we can set up a time to discuss your shaving strategy and help you incorporate shaving oil into your routine. That being said....



It is way easier than you think. All you need to do is splash a little water on your face, Place 3 or 4 drops of oil in the palm of your hand and rub the oil wherever you need to shave. Thats all there is too it. After you are done shaving just massage the remaining oil into your skin and prepare to be amazed.
Ingredients for Alonzo's Shaving Oil: Grapeseed Oil, Olive Oil, Coconut Oil, Avocado Oil, Apricot Oil, Bergamot Oil.