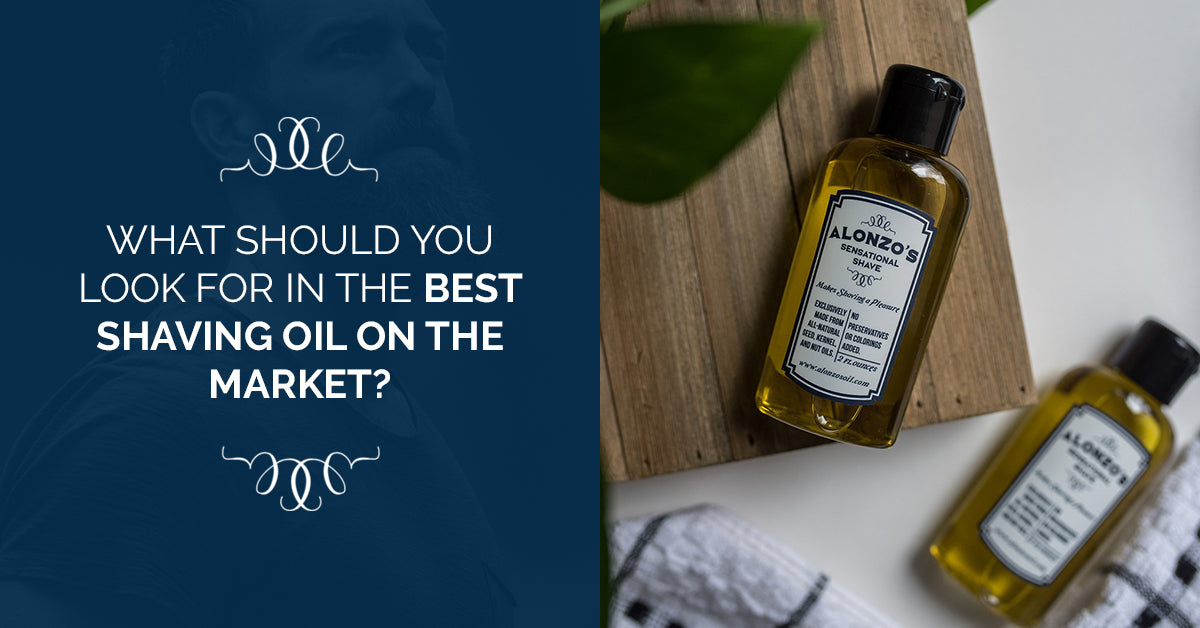 What Should You Look For In The Best Preshave Oil On The Market?
In terms of innovation in shaving products, we've come a long way since the dawn of ancient shaving methods. Men used to crudely scrape away at their facial hair with sharpened stones, flint, and clam shells, thousands of years before the classic straight razor would ever hit the shaving spotlight.
Nowadays, there exist many different shaving products online. From a variety of all-natural shaving oils and pre-shave oils to shaving creams, brushes, and even all-natural beard oils for those who want the hair to stay, there truly is a lot out there to choose from. The facial hair care market competition forces companies to develop incredible products, and we firmly (albeit biasedly) believe that Alonzo's Oil is no exception.
How To Shop For The Best All-Natural Shaving Oil And Beard Oil Online
With so many choices out there, how do you pick what's right for you? The truth is, everyone's skin is different, and you'll need to try out something first-hand to see if you'll actually like it. We're confident that you'll love our men's shaving oil and beard oil because it's formulated using gentle, natural oils designed for most types of skin, including sensitive or easily irritated skin.
Here are a few criteria that you should keep in mind when looking for the best beard oil and men's shaving oil online:
Are There Any Harmful Chemicals Or Other Unnatural, Unnecessary Ingredients?
It's true that you're not eating any of these oils, but they will be absorbed into your body due to the inherent porosity of the skin. As such, you'll want to look for pre-shave oils and beard oils that are free of chemicals like ammonia, formaldehyde, PABA, parabens, synthetic extracts, and added colorings and fragrances.
Are There Beneficial, Natural Oils With Proven Benefits?
You may be able to find shaving oils out there that skip out on the bad stuff that we just listed, but just because they use natural oils doesn't necessarily mean that it'll lead to a smooth, moisturized shaving experience.
Alonzo's Oil uses grapeseed oil, olive oil, avocado oil, apricot oil, and bergamot oil that each provide your skin with unique and intentional shaving benefits. Learn more about them in our men's pre-shave oil.
Is It Simple To Use?
In truth, high-quality shaving oil shouldn't be very difficult to apply to use. Whether or not you combine our pre-shave oil with shaving cream, using Alonzo's Oil is pretty simple: with a clean face or skin area, simply splash some warm water on it, rub three or four drops of our shaving oil on the desired area, and carefully shave away. It's that easy.
Do People Agree That It's Awesome?
These days, reviews do all of the talking. See what people are saying about Alonzo's.  
Are You Ready For The Best Shave Of Your Life?
Our goal is to improve everyone's shaving experience around the world. After all, if you're required to shave, why not make the experience — and the final product — more enjoyable? Learn more about our all-natural men's pre-shave oil today.